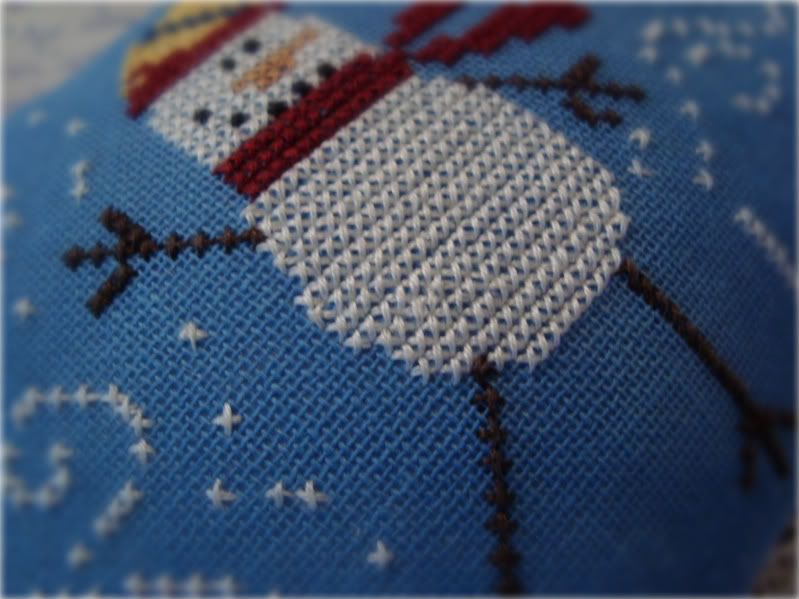 The Cold Snowman
by Bent Creek
Gift stitched by Rô Papoulla



Ultimamente, recebi, por ordem, trabalhinhos que me foram enviados pela
Rô Papoulla
, afilhadinha de blog
; pela
Popola
; pela
Isadora
, pela
Locas
e, ainda por uma troquinha, pela
Ana
. Uau! Como podem notar, tenho muitas, muitas coisinhas para postar, mas acho que merecem postagens individuais. São coisas lindas e feitas com muito carinho, e estou tão "toda-boba-oba-oba" com tudo, que o mínimo que posso fazer mostrar os presentinhos um a um como modo de agraceder o carinho que minhas amigas me enviam em cada uma das peças.


Hoje quero lhes mostrar as coisinhas lindas que a Rô Papoulla me enviou. São mimos para escritório, revistas de bordado e coisas fofas que tanto eu quanto ela adoramos. Junto com tudo isso, minha amiga querida incluiu uma almofadinha bordada com pontinhos perfeitos. Ela escolheu o esquema "Cold Snowman", do Bent Creek. O capricho incluiu um tecido importado no verso da almofada, rabinhos de cavalo perfeitamente feitos e presos com uma conta branca que combina com o tema neve. Os detalhes dos meus presentinhos podem ser vistos abaixo. Mas, na foto principal, quis mostrar a vocês como minha amiga borda lindamente!
Recently, I received beautiful gifts from my friends. Theyh have been sent by
Rô Papoulla
; by
Popola
; by
Popola
, by
Locas
and also by a swap by
Ana
. Wow! As you can notice, I have many, many things to post, but I think they deserve individual posts. Everything is so beautiful and made with great affection, and I will be proud of, one by one, post everything here as a way to thank the love and affection my friend have given to me with every single gift they send me.


Today I want to show them the beautiful things that Rô Papoulla sent me. They are stuff used for office work, cross stitch magazines and fluffy things that both of us love to have. Along with all this, my dear friend included a small cross stitch cushion stitched so perfectly! She chosed the "Cold Snowman" pattern, by Bent Creek. Her neatness in the finishing included an imported fabric on the back of the cushion, tassels perfectly made tied with white beads that glows to match the theme of snow. The details of the goodies can be seen below. But in the main photo I really wanted to show you clearly how my friend stitches beautifully!
Se quiser ver mais fotos, clique sobre as miniaturas abaixo.
If you want to see more pics, click on the thumbs below.